Welcoming Babies with Down Syndrome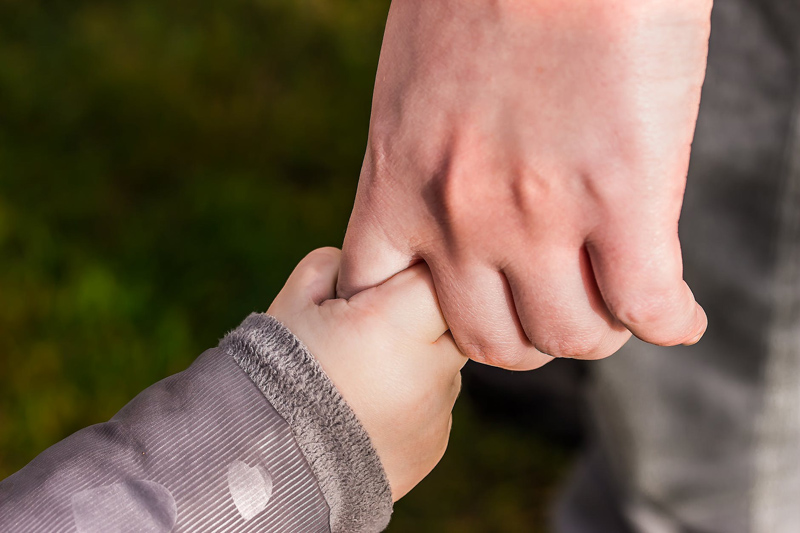 If you are welcoming a new baby with Down Syndrome into your family, you probably have many questions and concerns, as do your extended family, friends, and neighbors. We have written this information keeping in mind our own diverse experiences when our children were born with Down Syndrome.
Congratulations on the birth of your baby. We wish you all the best.
Down Syndrome is a chromosomal anomaly that occurs in 1.3 per 1000 births. For some unexplained reason, an error in cell development results in 47 chromosomes rather than the usual 46. The extra gene material slightly changes the orderly development of the body and brain. About 5000 babies with Down Syndrome are born in the United States every year. The national population of individuals with Down Syndrome is estimated to be 250,000.
About 80% of babies with Down Syndrome are born to mothers under the age of 35. About 1 in 400 babies born to women over 35 have Down Syndrome.
People with Down Syndrome are more like typically developing individuals than they are different. There is great diversity within the population in terms of personality, learning styles, intelligence, appearance, compliance, humor, compassion, congeniality, and attitude. Favorite pastimes vary from person to person and range from reading and gardening to baseball and music, and beyond.
Children with Down Syndrome benefit from the same care, attention, and inclusion in community life that help every child grow. As with all children, quality education in neighborhood schools and preschools, and at home, is important to provide the child with Down Syndrome the opportunities that are needed to develop strong academic skills.
On standard IQ tests, our sons and daughters with Down Syndrome most often score in the mild to moderate range of mental retardation. These tests do not measure many important areas of intelligence, and you will often be surprised by the memory, insight, creativity, and cleverness of your child. The high rate of learning disabilities in students with Down Syndrome sometimes masks a range of abilities and talents.
Although babies and children with Down Syndrome are early customers for extensive health evaluations, infant stimulation, physical therapy, communication enhancement, developmental evaluations, and other professional intervention, it is important to keep in mind that every child deserves to be surrounded by people who love, respect and admire all children.
Individuals with Down Syndrome may be identified by numerous physical attributes which may or may not present themselves in any one individual. Some characteristics are the beautiful almond shaped eyes, with striking Brushfield spots on the irises; a single palmar crease on one or both hands; small features; and exceptional social intelligence. Individuals with DS have a high rate of congenital heart defects (35 to 50%) and should have an echocardiogram within the first two months of life. National organizations provide medical checklists for individuals with DS that you may wish to pass on to your child's physician.
There are three major types of Down Syndrome. Your baby is most likely to have Trisomy 21, meaning presence of extra genetic material on the 21st pair of chromosomes resulting from an anomaly in cell division during development of the egg or sperm or during fertilization. About 95% of people with DS have Trisomy 21.
It is estimated that 3% to 5% have Translocation, where the extra chromosome 21 broke off and became attached to another chromosome, and 1% to 3% have Mosaicism, where only some cells have Trisomy 21.
Your child will have more opportunities than a child born with Down Syndrome five years ago. As young people with DS show what they can do with the support of their communities as they integrate mainstream programs, more doors open for others. We have seen TV series featuring talented actors with Down syndrome enlighten the general public about the potential of all our children.
More than twenty years ago, two young men authored a book, Count Us In, Growing Up with Down Syndrome, and impressed audiences across the country at book signings and on talk shows. In a fast paced mystery, Honor Thy Son, by Lou Shaw, two characters with Down Syndrome were faithfully portrayed as multi-dimensional young adults. A young man with Down Syndrome was a winner of the Best Actor honor at the 1996 Cannes Film Festival.
Thousands of young people with Down Syndrome across the country are quietly going on with their lives without fame or fanfare and transforming their communities by just being there. They have dreams and the determination to reach their goals. They learn in regular classrooms in their neighborhood schools with the children who will one day be their coworkers, neighbors and adult friends. Young adults hold diverse and meaningful jobs, maintain their own households, and make significant contributions to their communities every day.
Allow your family, friends and neighbors some time to learn about Down Syndrome, reminding them if necessary that DS is just a small part of who your child is and will become. It is a small part of your child's genetic makeup, and the extra chromosomal material is unlike any other person with Down syndrome. Staying integrated in your mainstream community is important to your child's development and your peace of mind.
Try to get some rest. You are allowed to feel however you feel, and so are others who love you and your baby. Childbirth is hard work. Many of your emotions stem from a new life coming into your family. No expert will know more about your child or have his or her best interests at heart like you do.
You deserve congratulations and wonderful gifts. Have the good cooks among your family and friends bring over their best meals. Take time to welcome and enjoy your baby. They grow up fast. Take plenty of pictures together so they can laugh at your fashion, technology, and hairstyles, when they are teens.
National organizations will send free, accurate information about Down Syndrome to you and other family members. They have yearly conferences, newsletters, and lists of local parent groups who you may wish to contact for local resources and information.
Browse at your local bookstore, public library or online booksellers for DVDs and books about raising a child with Down syndrome like
Babies with Down Syndrome - A New Parents Guide - 2008
or
Gifts: Mothers Reflect on How Children with Down Syndrome Enrich Their Lives, and Gifts 2: How People with Down Syndrome Enrich the World
.
I have been surprised
https://karynslater.wordpress.com/2013/10/17/31-for-21-i-have-been-surprised/
The 1000 miles of Luca - A father talks briefly about life with his son who has Down syndrome
https://vimeo.com/84061549
I'm Just Like You
https://www.youtube.com/watch?v=g6NQ8WSowoI
High school Script to Screen class documentary on
having Down syndrome, by Samantha Westcott, 18.
Down Syndrome in the 21st Century https://www.youtube.com/watch?v=I13KxRYqoo0&feature=youtu.be
Featuring the wonderful abilities and potential of people with Down syndrome from infancy to adulthood.
National Down Syndrome Society
https://www.ndss.org
National Down Syndrome Congress
https://www.ndsccenter.org
Diagnosis to Delivery: A Pregnant Mother's Guide to Down Syndrome by Nancy Iannone and Stephanie Meredith
https://downsyndromepregnancy.org
Gifts 2: How People with Down Syndrome Enrich the World
.
https://www.bellaonline.com/articles/art63458.asp
Just Like You - Down Syndrome
https://www.youtube.com/watch?v=5M--xOyGUX4
On Adopting a Kid With Down Syndrome
https://huff.to/KA8Xwx
https://www.huffingtonpost.com/kari-wagnerpeck/on-adopting-a-kid-with-down-syndrome_b_4608455.html
Nine Myths About Raising a Baby with Down Syndrome
https://www.fudgebananaswirl.com/9-myths-about-raising-a-baby-with-down-syndrome
Down Syndrome:
Shifting Perspectives at the Dublin Arts Council
https://www.youtube.com/watch?v=TQ61vJdqyWw
Genetic Counseling Information about Down Syndrome
Understanding a Down Syndrome Diagnosis
, previously available from
https://www.canisterbooks.com
has been adapted and will now be available from https://www.Lettercase.org
Dr Len Leshin:
Down Syndrome Health Issues
https://www.ds-health.com
Health Care Guidelines: Down Syndrome
https://www.ds-health.com/health99.htm
Life Goes On for TV's Corky, Chris Burke
https://tinyurl.com/ChrsBurkeLfGsOn
Heart and Halo Talent Agency
for actors with Down syndrome of all ages
https://www.dsala.org/hh_talent.htm
Information provided in Welcoming Babies with Down Syndrome was compiled, edited and written by Pamela Wilson. The Spanish translation of Welcoming Babies with Down Syndrome, Bienvenidos Bebés con Síndrome de Down, was provided by Carlos Osorio. The French translation, Accueillir les bébé trisomiques, was provided by Benoit Lanthemann.
Spanish - Bienvenidos Bebés con Síndrome de Down
https://www.bellaonline.com/articles/art32537.asp
French - Accueillir les bébé trisomiques
https://www.bellaonline.com/articles/art32538.asp
Keep Abortion Politics Out of the Pro-Information Movement
https://www.thismess.net/2014/06/keep-abortion-politics-out-of-pro.html
You Should Also Read:
A Brand New Baby with Down Syndrome
Thoughts From the Middle of the Night
Prenatal Diagnosis - Down Syndrome


Related Articles
Editor's Picks Articles
Top Ten Articles
Previous Features
Site Map



Follow @DownSynAdvocacy
Tweet





Content copyright © 2022 by Pamela Wilson. All rights reserved.
This content was written by Pamela Wilson. If you wish to use this content in any manner, you need written permission. Contact Pamela Wilson for details.